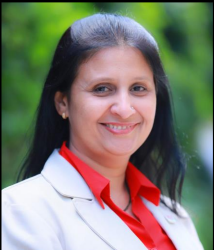 Jayshree Mehta, the Founder and Lead Trainer of Future Ready Learning Solutions, is an established name in the Investment industry. In over 19 years of her experience as a Corporate Trainer and Financial Coach, Jayshree has inspired, guided, and handheld thousands of individuals in planning a better and financially secure future.
Jayshree had realized early in life that it was essential to plan the finances wisely. Over the years, she understood that smartly invested money could help put life in place. It also dawned on her that a significant part of the population around the world was either clueless or misguided about investment planning and hence had weak personal finances. This realization inspired her to create an organization that would tend to the financial and skill-based needs of individuals and entities. And so, she founded Future Ready Learning Solutions.
Today FRLS, under the able leadership of Jayshree Mehta, has successfully conducted over 1200 workshops and training programs in both public and private sector companies. Bharat Electronics Limited, Power Grid Corporation of India, Toyota India, Electronic Corporation of India, Bharat Dynamics, Wipro, Brigade Hospitality are some of the many renowned clients of FRLS.
As an eloquent speaker and financial expert, Jayshree has conducted and led numerous training programs on topics relating to Financial Planning and Retirement Modules. She has also conducted workshops on finance for women and in colleges. Jayshree and her two brothers Sanjay and Jayesh poured in their proficiencies and expertise in the subject and have to date helped over 2500 families achieve financial sustainability and freedom.
Jayshree has to her credit several industry certifications as listed below:
Certificate in Life Insurance Sales & Marketing from "The American College & IAIFM"
Certificate in Professional Ethics and Compliance from "The American College & IAIFM"
NSE's Certification in Financial Markets (NCFM)
IRDA license since May 2004
LICENTIATE since 2008
Honors Diploma in Software Technology & Systems Management from NIIT, 1996
Jayshree's competencies and desire to affect change in society's finances make her the go-to person if you wish to make your financial life stressless and successful. She strongly believes in the fact that "Everyone should live Rich rather than dying Rich"